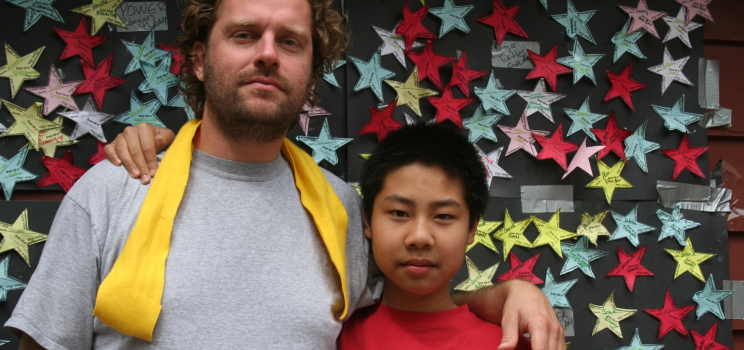 Growing up with a single mom with English as his second language, school was a struggle for Charlie. With a busy mother trying to keep the family afloat with limited English, Charlie found himself slipping behind in school. He was extremely shy, not getting along with other kids and heading down an uncertain path.
"I remember being frustrated because other kids were doing well in class and I wasn't," says Charlie.
Thanks to an early intervention from Charlie's school connecting him with a Peer Project mentor, Charlie was able to overcome his language barrier and a learning disability to succeed in school. Along the way, he saw some of his peers who weren't so lucky.
"There was this kid…that kind of hung out with the wrong crowd and he got shot and he lost his life," says Charlie. "It's a shame because he was actually on the list to become a mentee."
The Peer Project has list of over 400 kids waiting to be matched with a mentor, but with a lack of available mentors – especially male mentors – some kids aren't as lucky as Charlie.
From Wallflower to Mentor
Charlie remembers his early days with his mentor weren't easy.
"I was very shy at the beginning, I didn't say much or do much," says Charlie, adding it took him almost a full two years to come out of his shell and share his experiences in school and home.
"After getting to know him, it became easy – we became good buddies," says Charlie.
From being a quiet and frustrated kid, Charlie has evolved from needing a mentor to becoming a mentor himself. Now that roles are reversed, Charlie is learning what it's like on the other side.
Looking Forward to Summer Camp
As a kid surviving the urban jungle of Toronto, Charlie looked forward every year to attend the Peer Project organized summer camp – a 3-night excursion into Algonquin Provincial Park at Camp Northern Lights with around 50 matches (kids and mentors).
"Growing up as a kid, I never used to go camping or do anything like that because I came from the city," says Charlie. "I learned so many new things [at camp] – I learned how to swim there, how to canoe, kayak, and go cliff jumping."
This past year Charlie again learned something new but not from scrambling over rocks and diving into the depths of a fresh-water lake.
"When I actually spent three nights alone with him [his mentee] at summer camp, it was very challenging," says Charlie. "You're like the only one – the parents aren't there – and that was really challenging for me because I have never been put in that position."
Being thrust into the role of protector and disciplinarian has prepared Charlie for future similar experiences he says and he is beginning to see growth in his kid.
"I have noticed some improvements, he has gotten a bit more confident with other kids, and he tells me things now," says Charlie. "I have noticed he has gotten a bit closer to me."
Charlie is now entering his second year studying mechanical engineering at George Brown College.
"Growing up I always liked building things and stuff like that, but I always struggled with the English and Math part – even to this day," says Charlie.