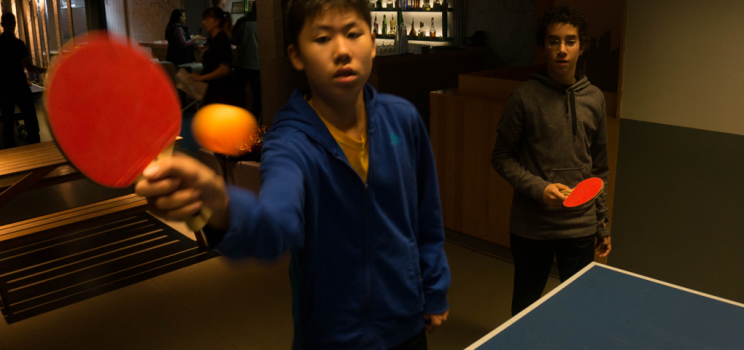 We were thrilled to be a part of another amazing RBC Sports Day in Canada.
From November 14 to 21, over 2,000 sporting events took place from coast to coast to coast as part of the RBC Sports Day in Canada celebration – demonstrating our nation's love of sport, its power to build community and get Canadians moving!
For our crew at The Peer Project, we celebrating by taking to the tables, the table tennis tables that is. Our gracious partners at SPiN, opened their doors for our mentors and mentees to enjoy a whole afternoon of fun on Nov. 21, 2015. We had an amazing turn-out of Peer Project matches and families, joining us from destinations across the city.
A fun afternoon of play
It's always such a treat to see what an amazing community of people we are able to bring together. Without fail, our team collaborates to create such an easy going and open environment, and full of laughter and good times.
When one of our kids was asked what was the best part of having a Peer Project mentor, he replied: "You get to experience things you never get to experience before, and to meet new people and have fun!" Sounds like a pretty good summary of the day to us!
Celebrating RBC Sports Day, table tennis is really a perfect activity for our organization. It's accessible and easy for anyone to pick up and get in on. Learning the basics can be fairly easy, and so it's a great opportunity for our group to interact with each other and get involved in casual games. Table tennis is also a great physical activity that gets everyone moving and improving their motor skills and hand-eye coordination.
A very big thanks to SPiN, and of course, our tireless activity coordinator Andre for bringing everyone together. And thanks to all our matches for showing up and participating in such a great event. Of course, extra thanks to RBC for leadership on such an important cause and helping us all get focused on healthy living and building strong communities through sport.
Check out our kids in action: