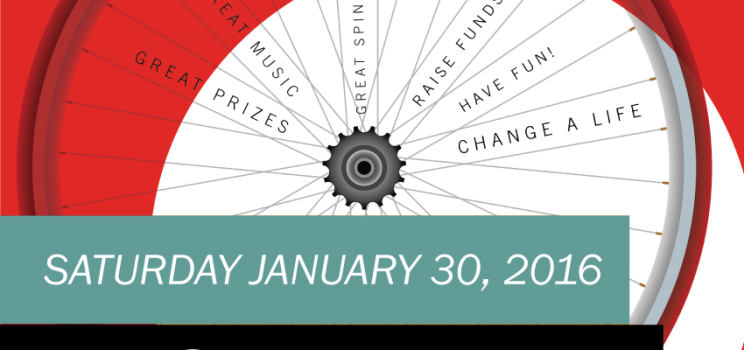 On January 30, 2016, come have fun, get fit, and support The Peer Project by taking part in the 4th Annual Spin-a-thon, hosted at Energia Athletics. 
What's a Spin-a-thon?
Four years ago, our Board of Directors came up with the fantastic idea: take a fun form of exercise and turn it into a team-based challenge that would get people physically active and excited about raising funds for The Peer Project.
This year's event starts at 12pm noon on January 30, and rolls right through to 12am
, with non-stop music, snacks, refreshments, and a host of enthusiastic instructors!
The spinning sessions last about an hour, including a warm-up and cool-down. In between each session there is a short break where teams are able to switch out their riders for the next session.
Teams are made up of at least four members, and up to 30. Each team is led by a Team Captain who does the organizing and leads the charge. A team can maximize their fun by choosing to spin together in the same class, or sign up for individual time slots throughout the day.
Grand Prize Draw for a 1 year Energia Athletics Spin Membership!

By raising $300, all participants are eligible to enter the Grand Prize draw to win a 1-year Spin Membership at Energia Athletics.

All participants receive a gift bag, t-shirt, and loads of other goodies. A $50 registration fee applies and ensures that 100% of the money you raise goes directly to creating a match between an at-risk youth and one of our volunteer youth mentors.

All Team Captains, this year, also receive a chance to win flights for two from Porter Airlines, wherever they fly.
REGISTER NOW FOR THE 2016 SPIN-A-THON!
Indoor Cycling at Energia Athletics
Even for those new to the activity, the TPP Spin-a-thon is a great introduction to a fantastic exercise experience. Spinning, or indoor cycling, is a vigorous workout, and a great way to burn calories and keep your muscles in shape. While the pros might operate a bit harder, newbies are completely free to ride at their own pace and set a pace that is perfect for them. Riders can control the resistance on their bikes to make the pedaling as easy or difficult as they choose.
Each year we're fortunate to be hosted by the amazing team at Energia Athletics. We're excited to check out their new facilities this year, at 702 Pape Avenue.
The Energia team is kind enough not only to donate the space and bikes, but also to provide a talented roster of spin instructors who lead each of the spinning sessions. Along with music and video, the instructors put together an impactful peddling program that includes a warm-up, steady uptempo cadences, sprints, climbs, and a cool-down to finish things off. This class environment is a fantastic group experience that makes for fun camaraderie and challenge. Some of the instructors are actually Peer Project board members!
REGISTER NOW FOR THE 2016 SPIN-A-THON!
Why the Peer Project?
After four years later, we've raised over $100,000 for our youth mentoring programming in the GTA. This year we're hoping to break our annual Spin-a-thon fundraising record of $45,000.
As board chair Lawrence Hughes notes, "We need to raise funds to get more mentors – especially males – matched with kids from our waiting list now."
The Peer Project is a non-profit charitable organization. We match at-risk and newcomer children ages 6-15 with trained and dedicated Volunteer Youth Mentors ages 16-29. These mentors act as positive role models. By partnering kids who need support with peers who can give it, we create real relationships that matter!
The Peer Project relies on the generosity of sponsors and fundraisers to keep our proven programs alive … it truly is worth the investment.