Youth Assisting Youth, along with Presenting Sponsor McCarthy Tétrault, are extremely proud to announce the results and impact of the 2020 YAY Move-a-thon Fundraiser.  "Thanks" for all of the amazing ways that you moved for mentoring!
Your support was instrumental in sustaining our life-changing mentoring program during the pandemic, helping at-risk kids to stay connected from a distance, build resiliency and succeed in the face of adversity.
How much did you help raise?
With support from 65 participants, 11 teams, 6 sponsors and hundreds of donors, we raised more than $38,000 for our youth mentoring program. While those same 65 participants and 11 teams, ran, walked, swam, skated, danced, cartwheeled, hula-hooped and moved for a total 13,404 Kilometers, leading to the donation of 6 laptops to 6 kids by reBOOT Canada ($11,500 value). 
This is absolutely amazing, and again we thank you!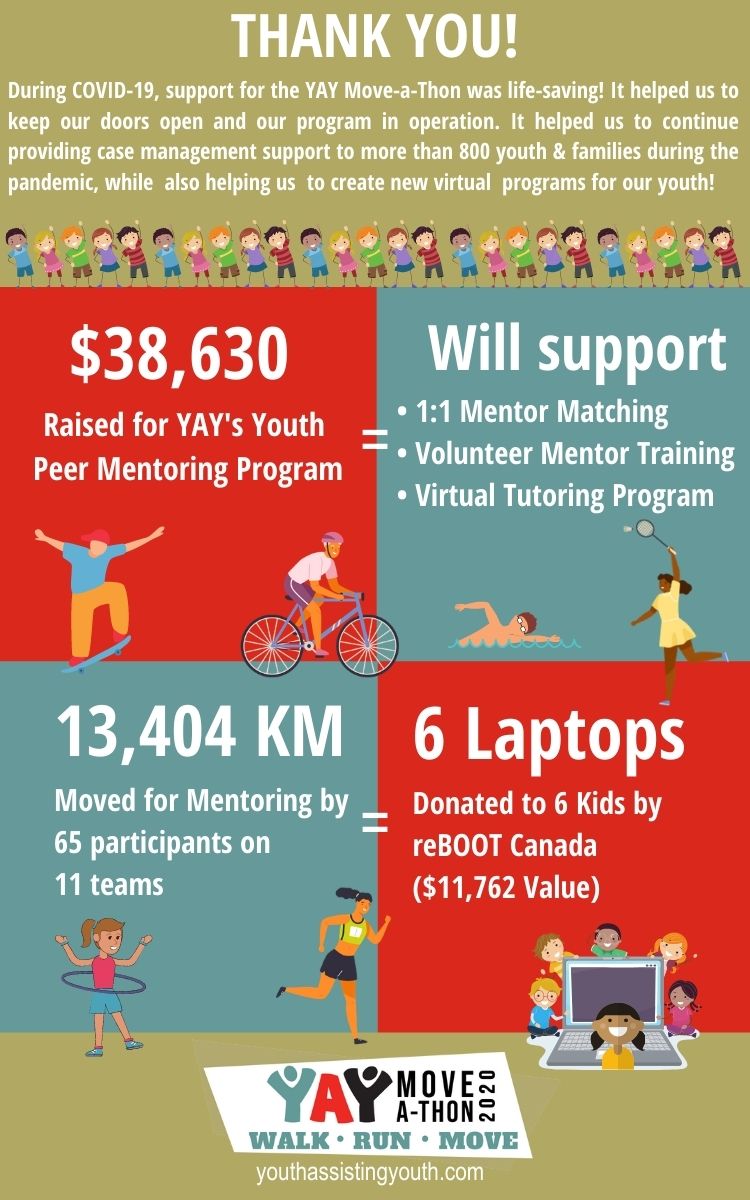 Mentoring is proven to have a significant effect on youth and their ability to succeed, and 98% of the youth that we've worked since 1976 have gone on to graduate from high school. Research also shows that youth who have a mentor are 55% less likely to skip school; 55% more likely to enroll in college; 46% less likely to start using drugs; and 81% more likely to be engaged in extracurricular activities (www.mentoring.org). Furthermore, adults who had a mentor in their youth earn $315,000 more income in their lifetime, and every $1 invested in youth mentoring for high-risk youth returns $23 to society (Mentoring Effect on Health 2016). 
Mentoring has the power to teach youth about equality, inclusiveness and volunteerism during their pivotal adolescent years, before they turn to bullying, gangs or delinquency. It has the power to change the world, and support for the YAY Move-a-Thon is having a real, world-changing impact on youth across Toronto. 

Big shout out to all our 2020 sponsors
Presenting Sponsor – McCarthy Tétrault; Technology Sponsor – ReBOOT Canada; Gold Sponsor – BLG Borden Ladner Gervais; Silver Sponsor – Torys LLP; Silver Sponsor – Shell Canada; Silver Sponsor – Brian Elder Be-At-Home.com; Special Thanks to – NKPR Inc. and Mediatonic Digital. 
The support and generosity of our sponsors helped to make this event a success, while also helping us to sustain our life-changing programs during the COVID-19 pandemic. We thank them for their committed support of our YAY Move-a-Thon and our 1:1 Youth Mentoring Program.
We had fun moving with you
On behalf of everyone at Youth Assisting Youth, staff, volunteers, mentors, mentees and families, as well as our event sponsors, we would like to thank everyone involved for their tremendous support of this important initiative. You truly made this inaugural event special, and your support is having a real, life-changing impact on the lives of youth across Toronto! Thank You!
If you want to keep supporting youth mentoring in your local community, consider making a monthly donation here. 
Are you doing something special at your work, community or school? Talk to us about how you can easily add-on fundraising for youth mentoring! Email us at mail@yay.org