National Volunteer Week is important for so many reasons, and at Youth Assisting Youth it signifies and represents something very special, reminding us that our program and organization is built upon the commitment, support and compassion of our incredible youth volunteers.
So many agencies and organizations, right across our city, province and country, rely on the dedication and kindness of volunteers to deliver their essential programs. The charitable, non-profit sector could not exist without the vital role that volunteers play in achieving our objectives and impact. National Volunteer Week is a time for us to reflect on the achievements and importance of our volunteers, and more importantly, a time to show our gratitude and acknowledge their time and incredible work.
More than 5,000 youth have volunteered as youth mentors with Youth Assisting Youth since 1976, and they have given more than 2 million hours of volunteer service to change the life of a young person.
It's difficult to capture in words how truly important volunteers are to Youth Assisting Youth. Our volunteer youth mentors play a very unique role, and the relationship that they have with our team, our junior mentees and their families, are the very fabric of our organization. They are the foundation of everything that we do.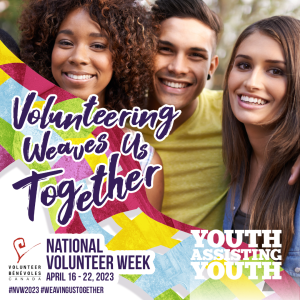 The role of volunteer youth mentor at YAY is far from a typical youth volunteer opportunity. It requires a minimum of 120 hours over 1 year, and a real passion and determination to make a difference. We are so proud of the incredible difference and impact that our volunteer youth mentors have had on their mentees and this city!
Thank you – to every Youth Assisting Youth volunteer youth mentor, as well as all volunteers, who have given their time, energy and passion to help make Toronto and the world a better place!
Learn More – how you can become a peer mentor!