Emigrating from Jamaica at age four to Toronto and landing in the Jane and Finch area (and then Mimico), Mick didn't really know he grew up in neighbourhoods that were known as rougher areas.
"You realize after you are older what was happening in your neighbourhood, you see a lot of domestic abuse, drug use, and prostitution and stuff like that," says Mick.
Mick's parents weren't around much because they were working to help keep food on the table for Mick and his siblings. Mick was the oldest kid in the family and took on the role of parent to keep his younger brother and sister in line.
"I was sort of left in charge, so it caused me to grow up faster than most kids around my age and it's those experiences that I use when dealing with my mentee," says Mick.
Now as a martial arts instructor and security guard at the AGO, he is giving back to help a newcomer kid get settled in a new city and a new country.
"Your childhood can be a make or break time, and I feel that given my experiences in my life, I would be able to help kids in similar situations," says Mick.
Finding Common Ground and Navigating the Line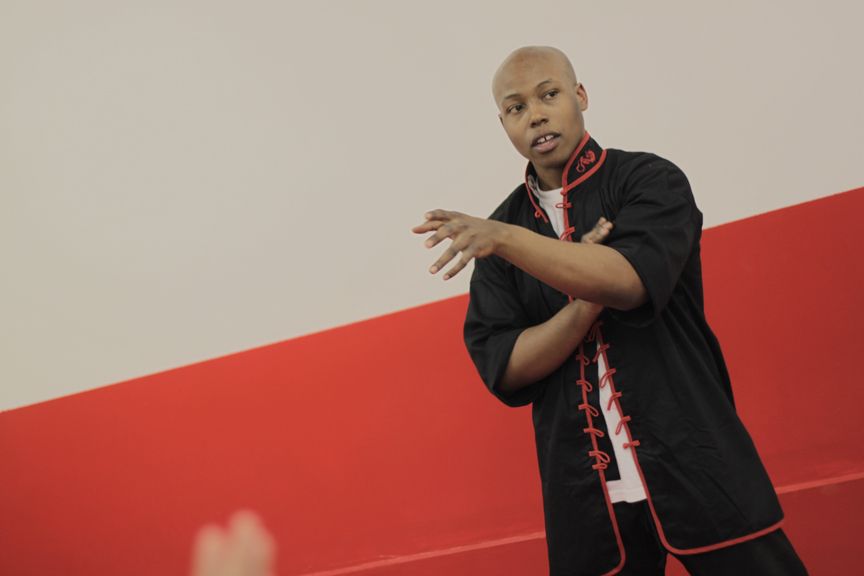 At first, his junior was very shy. "He didn't say anything," but Mick kept looking for common ground and soon landed on something they both liked: football.
"Because he is of South American descent, I was thinking does he mean that kind of football or American football?" says Mick. "So I asked him "Which one? The one where you kick or the one where you throw? And he said 'throw' and I was like yes – we are going to be good friends."
Dealing with difficult issues hasn't been a problem, says Mick. "The Peer Project training sessions prepared me for most things." The only big challenge has been finding the right balance between being a friend and being a disciplinarian.
"You aren't the child's parents, so you need be aware of the line where you can jump in to say you can't do this or you can't do that," says Mick. "If they are having family issues, you need to negotiate if it's your place to say anything?"
"I don't have any children and it is nice to get a taste of what that is like," says Mick. "Now I that have had experience dealing with these delicate fine-line issues, I do feel better prepared and equipped if I have to deal with them again in the future."