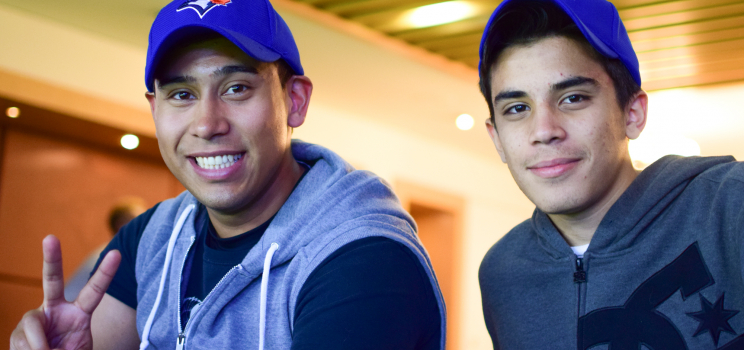 A big big thanks to the Jays Care Foundation! On May 19, The Peer Project got a very special invite to Rogers Centre to catch the game in the Jays Care Community Clubhouse. It was a night of cheers, laughs, hot dogs, pizza, popcorn and baseball! We had our picture up on the JumboTron, and even had a visit from the Jays mascot Ace.

JAYS CARE FOUNDATION SUPPORTS PEER PROJECT MENTORING
While visiting the Jays Care Clubhouse was a dream come true for our kids and families, Jays Care also has a much bigger impact on The Peer Project's overall programming. We were thrilled this year, to be a recipient of a Jays Care Grand Slam Grant. In 2014, Jays Care Foundation invested over $400,000 in Grand Slam Grants, reaching over 6,600 children and youth across Ontario. For an organization like the Peer Project, this kind of support is a huge boost to our fundraising and directly impacts our ability to deliver our programming.
It's an honour to be recognized for what we do, and we're excited to partner up with the Jays Care Foundation to bring our peer mentoring programming to youth across the GTA.
WORDS FROM OUR FRIENDS ABOUT HOW JAYS CARE HELPS 
Here's what some our crew had to say about our visit to the Jays Care Community Clubhouse, and how much the Jays Care supported mentoring means to them.
Alan and Mateen
For Alan and Mateen, a ticket to the ballgame is a big treat. A
nd being able to catch the game with the Peer Project crew is a lot of fun and a great way get to know other people in the program. Alan and Mateen have been matched for more than a year. For Mateen, who recently moved to Canada, Peer Project mentoring has been a key factor in adjusting to a new city, country and culture. Support from Jays Care means that the Peer Project was able to match these two pals together.
Suzanna, Santiago, Roland and Andre
For Suzanna, and her three sons, Jays Care supported mentoring has made
all the difference in their adjustment to life in Canada. The family moved to Canada from Mexico a few years ago. It's a huge leap jumping into a new culture and city, and not having anyone around to show you around. Peer Project mentoring has helped two of her sons make that hard social adjustment and get on the right path in their new home.
"For a single mom with three boys, we just don't get the opportunity to do activities like this. Coming to the Jays games and getting treated like this, is just an incredible experience that my boys will be talking about for a while."
Laurie and Connor
Laurie and Connor might be the biggest Jays fans you'll ever meet. A ticket to
ballgame is hard to come by, not to mention VIP treatment in the Jays Care Community Clubhouse. It's an treat for the mom and son to get out and do something exciting during the week. It's also an important chance to socialize and hangout with a group of other kids, not just one on one. Connor says, it's all about the having the best seats in the house and taking in the incredible view.
Nine months into the Peer Project mentoring program, having an older buddy has boosted Connor's self confidence and social skills in amazing ways, says Laurie.
Allan
Allan's mentor Max couldn't make the game, but that didn't stop Allan from
making the trip to Rogers Centre. Allan is a huge Jays fan. With glove in hand, he was pretty excited about the prospect of catching a ball. And there's nothing better than seeing all his favourite sports stars take the field right in front of his eyes. It's a treat to get out on a weeknight to hang out with some Peer Project friends to talk sports and have fun.
After two years, Allan and Max's mentoring relationship has turned into a fantastic friendship. "He's great guy," says Allan, "He's funny, he's nice and he always knows when to say the right thing."
Erwin and Aryan
This was Aryan's very first baseball game! New to Canada in the last six
months, his knowledge of baseball was nil. So it was a big deal getting to visit the Community Clubhouse and learn all about a new sport with a great group of people his own age. Erwin was pretty excited about the view and VIP treatment. And it was a thrill for both to hangout with other Peer Project matches to talk sports and learn about a new game.
Aryan and Erwin, matched only a few months ago. The pair having been having a great time, mostly centred around teaching Aryan about life in Canada and showing him around Toronto.