Spin-a-Thon Postponed to Late Spring. ?
As the COVID-19 situation continues to evolve, we've made the important decision to postpone in order to reduce risks and prevent the spread of the Coronavirus in our communities.
This has been a difficult decision, and we hope you understand why we've taken this necessary precaution. Although the Spin-a-Thon has been postponed, participants can still register and fundraise for our youth peer mentoring program. Before you know it, the Spin-a-Thon will be rescheduled & we look forward to connecting with you then!
In the meantime, our office will remain open and we encourage you to reach out with any questions or concerns. Thanks again for your ongoing support! YAY Team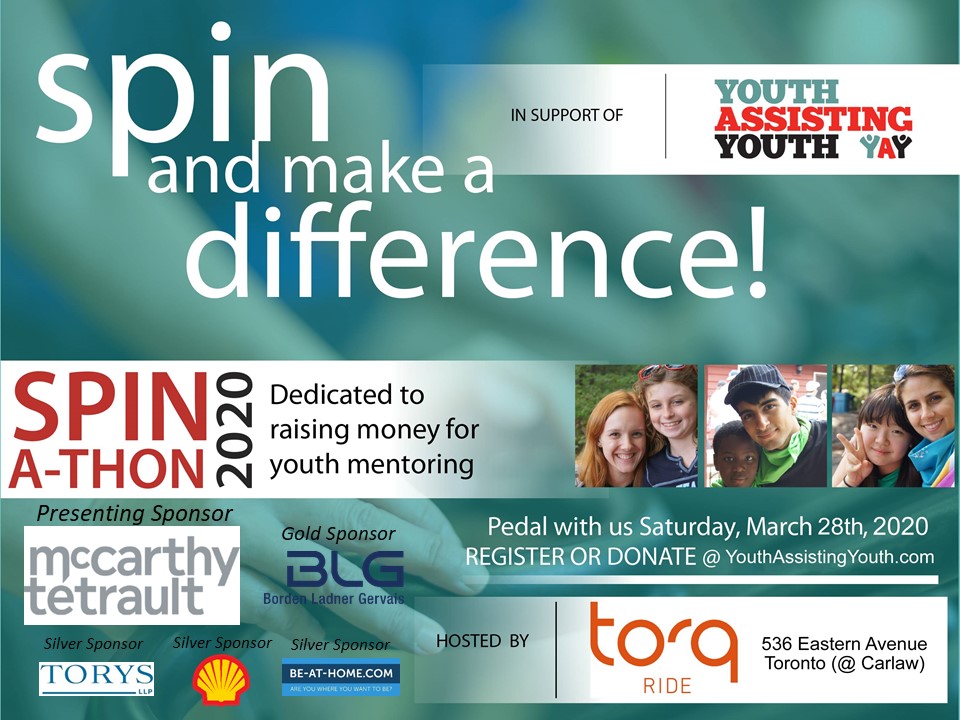 Join us at Torq Ride – Date TBD – from

1PM to 7PM.
Sign up & spin with us at Torq Ride (536 Eastern Avenue) for the 8th Annual Spin-a-Thon! Have fun, get fit, and support Youth Assisting Youth by fundraising for our proven Youth Mentoring Program in Toronto and York Region. You're guaranteed a fun-filled day of spin classes full of prizes and surprises! There are over 400 at-risk kids waiting who need your help today! There will be goodies, hourly raffles and a Grand Prize Draw for amazing prizes! If you're unable to participate, please consider making a donation to support at-risk youth in your local community!
Download the Sponsorship Package, Event Details document, Fundraising Message document and Event Poster below.
SEE YOU AT TORQ RIDE
Don't be intimidated by spinning's cult-like rep—whether you're a workout novice or a seasoned pro, this fitness phenomenon is a great way to build endurance and up your cardio health. And while doing this fun, high energy cycling workout on March 28 you will also be helping at-risk and newcomer youth!
If you want one of the best spinning classes in Toronto that feels more like a party, we've got you covered!
We're hyped that our youth mentoring indoor cycling fundraiser is being hosted by Torq Ride – a beautiful Toronto spin studio known for its high energy, low impact spin cycling rides.
In addition to an outstanding instructor team, spin riders gush about the brand new bikes!! Torq Ride's spin bikes are equipped with sensors that measure your speed and pace. There's even a report that's emailed to you with a full summary of how well you did. But don't take our word for it read what BlogTo has to say!