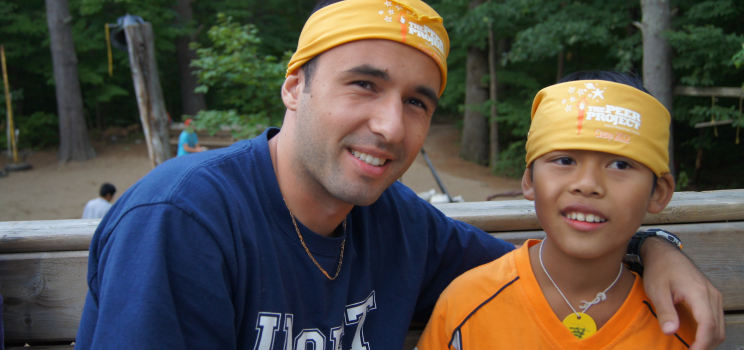 This article was written by Matthew Couto, Matthew is a writer, journalist, Peer Project volunteer, and currently the Communications Coordinator at TechSoup Canada.
When Alicia Jesquith spoke at a press conference in August, a month after her 14-year-old daughter Lecent Ross was shot and killed, she pleaded with parents to get more involved in their kids' lives.
"I'm asking, please look at your kids everyday and tell them you love them," she said, fighting back tears. "Check their bags, know who their friends are, know who they're hanging around with every day."
Charges including manslaughter were laid on an 18-year-old and a 13-year-old boy, adding another chapter in an all-too familiar story of Toronto youth being lost to gun violence.
It also begs the question: why was Ross and this 13-year-old boy hanging with an armed 18-year-old?
The Peer Project's (TPP) peer mentoring program addresses that
question. The Peer Project matches at-risk and newcomer children and youth – much like Ross and this 13-year-old boy – with a caring and responsible young adult who serves as a positive role model – rather than the mentorship of a violent 18-year-old.
"If they don't have a sense of belonging at home, they're going to find it somewhere else," said Ed Carlson, Director of Development at The Peer Project. "And if you don't get them a mentor in a program like this, or in a school program, they're going to find…they're own mentor…their own group to belong to."
Having a youth mentee spend time and connect with a positive mentor may seem trivial on the surface, but TPP's peer mentoring program is statistically shown to have a profound impact on the development of both mentee and mentor alike. Mentored youth are more resilient, more successful in school, and are less susceptible to the risk factors leading to violence, drug addiction and other harmful tendencies. What is it about peer mentoring – and TPP's peer mentoring program in particular – that makes it such an effective tool to change the lives of underprivileged youth?
Part of The Peer Project's success is they only accept mentors between the ages of 16-29 – effectively young adults. It leads to a faster, more transformative impact on youth, because youth mentors are seen more as a friend and less of an authority figure, which helps mentees open up.
"If you think back to when you were a kid, there may be some of your friend's older brothers that you looked up to, who you thought were so cool," says Elise Davidson, a former Peer Project mentor and currently a TPP mentor trainer. "They're closer to the margins of being 'in your club'. You feel like you can talk to them about stuff you wouldn't go to your mom or dad about."
Mentoring matches aren't made lightly. When young adults show interest in becoming a mentor, a TPP case coordinator interviews them on the phone immediately. Then they have to fill out an application, provide three references, and undergo a police background and vulnerable sectors check. Lastly, the case worker does a home assessment, and then the mentor receives training in areas like conflict resolution and child abuse awareness.
"Those are our checks and balances to make sure that we're getting the best," Carlson said. "If you're going to be a mentor, you need to be serious. You need to have compassion for others and a desire to make a difference in the community – and then be able to take it to a personal level."
Davidson fit the bill when she applied to be a mentor with TPP almost
two years ago. As a student in youth and child care, she wanted to gain hands-on experience and make a difference in a child's life.
She was matched with a child from a single-parent, immigrant family. The child was described as developmentally delayed. She was socially awkward and sensitive, and would get offended by people swearing or littering. She also had a close relationship with her mom and was very hesitant to trust others. However, Davidson continued to be present in her life and showed an interest in her world – what she was learning in school, and what she was interested in. After three months she finally opened up to Davidson.
"We were sitting on the bus…and she put her head down on my shoulder and it was just really cute," Davidson described. "And she goes 'you know what I said to my mom the other day? I told her that if something happens to her, I wanted you to adopt me.'"
"I was crying," says Davidson, "cause that means she's actually opened up to me and she views me as someone she cares about and trusts."
The mentoring relationship showed that her mentee could extend her trust to other people, outside her family. But Davidson's mentee wasn't the only one who changed.
"I learned to have patience with a process. You're not always going to have immediate gratification or reassurance that it's working, that you're doing a good job," Davison said. "I would make plans…and then she wouldn't respond well, and I'd be stuck. It taught me to be more adaptable, and respond in real-time, in the moment, and to be receptive to the fluid and changing needs of a young person I'm working with."
Mentoring matches like Davidson's are successful because of the ongoing support from The Peer Project. TPP provides a 24-hour emergency hotline for mentors to call – whether there's an emergency, or they just need timely advice on how to handle a certain situation. Mentors are never left in the dark, and have a support structure in place to guide them through the challenges they face with their matches.

Similarly, a TPP parent support worker checks in with both the mentor and mentee's family once a month to make sure everyone is following through on their commitments, if the match is working, and if the mentor is facing any challenges or barriers.
TPP pours its efforts and resources into making mentoring matches that work, doing everything possible to ensure the relationships are healthy and lasting. It's a low-cost program built on the dedication of passionate volunteers and has a high-return in developing a strong sense of community and belonging in the youth they serve.
Research done by TPP shows the results are tangible – mentored youth go on to earn on average $315 000 more than non-mentored youth. The skills they develop with their mentors make them more successful in escaping poverty and living more fulfilling lives.
"They're contributing to society, they're paying it forward," Carlson said. "And a lot of them come back and become mentors themselves."
The impact of mentor matches go beyond the childhoods of youth; some matches last a lifetime. One particular match saw the mentor attend his mentee's wedding as his best man, 20 years after their initial match. In another case, the mentee was adopted by his mentor's family and went from being a mentee, to a little brother.
That's how powerful peer mentoring is. Something as simple as providing a positive role model in a child or youth's world is quite literally a life-changing experience.