Andrea Cameron is a true inspiration and Youth Assisting Youth Champion! Her hard work and dedication make her the perfect role model for the youth in our mentoring program. We know there are so many youth charities – so it's always such an honor when someone like Andrea picks us.
The Boston Marathon truly is one of the most iconic long-distance marathons in the world, and Andrea Cameron, University of Toronto professor and avid 27 year runner, has crossed that finish line 12 times! No, that's not a typo! She's finished 12 Boston Marathons!
Andrea's 12th Boston Marathon in April 2019 was a special one, not only for herself, but also for Youth Assisting Youth and our youth peer mentoring program.
After 11 Boston Marathons, Andrea decided to challenge herself this year. First, she decided to run what's called the "Double Boston" – starting at the finish line in the early hours of the morning to run to the starting line, and then turning around to run back to the finish line in the official race. That's 84.2 km!!
The second part of her challenge came when Andrea decided to use her Double Boston as a platform to raise money for high risk youth in her community. Andrea created a fundraising campaign to raise money for our community-based youth mentoring program – and then decided to make a personal donation at the end – matching the total amount contributed by her family and friends.
On April 15, 2019, Andrea met the challenge at 4:36 a.m. and
completed her Double Boston – finishing Part 1 in 5 hours 5 minutes, and Part 2 in 4 hours 31 minutes! Andrea also raised a total of $4,877 for our youth mentoring program!
Her generosity and support will help us match 5 high risk
from our waiting list with a dedicated, fully trained One-to-One youth mentor. Mentors spend 3 hours per week with their mentee for 1 year, providing consistent guidance, tailored support and a positive role model.
Thank You Andrea Cameron for inspiring our youth to work hard and strive to reach the finish line! You are a true Champion of our program, and you've made a real difference in the lives of our youth!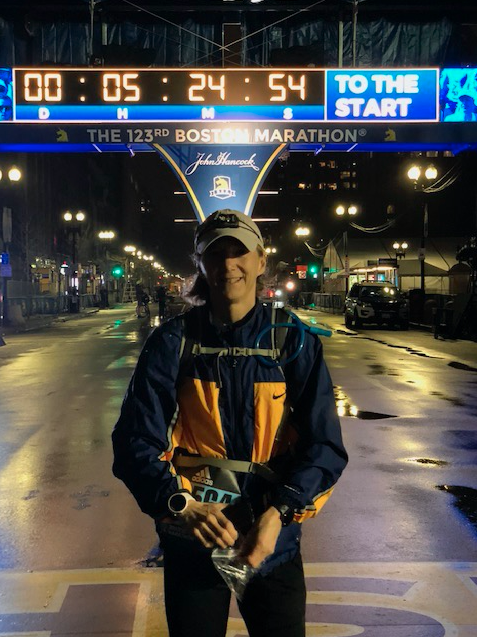 "The City of Boston and all the towns along the route, with the thousands of volunteers and cheering spectators every mile, are a testament to how we can all come together for events like this to support many charities and celebrate our humanity."
Is there an exciting challenge or event coming up in your life? Use it to fundraise for youth mentoring in Toronto and York Region! We'd love to help you, contact Ed Carlson